Alright, so I figured I might as well make a post about this. I already told the prequel to this story in the North American Tour thread (I'm pretty sure everyone already read it though, and I really appreciated the sympathy
) Anyway, I ended up going to Philadelphia yesterday (And I live in Syracuse! It was like a 6 hour drive!) to see the last show of the Fantasies tour. It was AMAZING! There were some people there who said they had gone to NYC, DC, and the Philly show and they liked the Philly show best, so I was excited to have been at that one. The sound quality was awesome, and all of the bands were really excited to be there. (I don't even like Sebastian Granger and the show was really exciting.) Emily was jumping around the whole show and was all smiles. (As was I
) But yeah, this was my first Metric show, and there definitely wasn't a dull moment. Even Front Row was exciting, and I was surprised at how great it sounded live. I was in line for like 4 hours to be first and managed to grab a spot front row center. (My sister came with me and took videos of most of the songs. I'm uploading them right now.)
Anyway, the best part of the whole experience was...
I MET EMILY!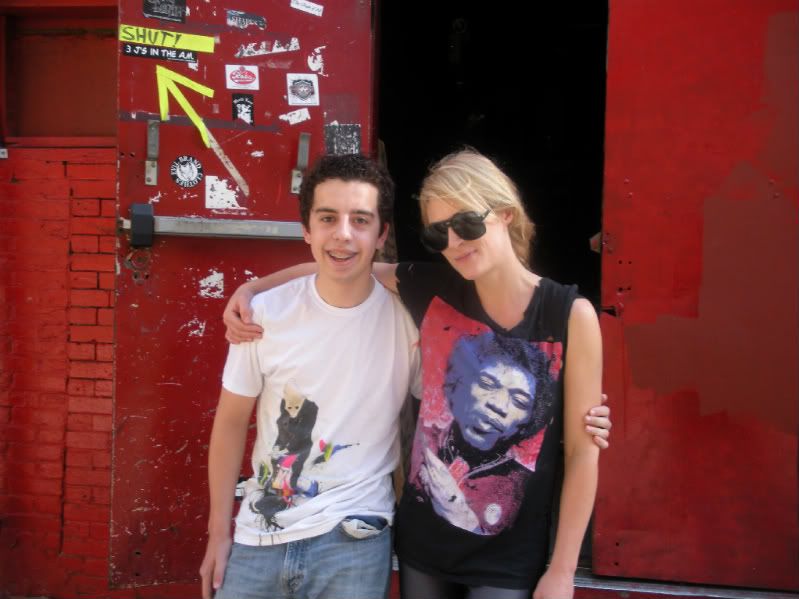 I was shaking the whole time. My mom was walking around the venue looking for a place to buy soda and saw the band standing in an alley and walked over to see if it was them. She said she thought it wasn't, but I apparently talk about Emily's legs too much and she saw her leggings and called me to have me run over to see if it was her, and it was! We told her my New York story and she seemed really surprised that we went all the way to Philly. (She called my mom SuperMom.) I tried talking to her, but I had a doofy smile the whole time and couldn't really manage to say anything. (I.E. "So what's your name?" "G-G- hehehehe... Gerard." "Well, it's nice to meet your, Gerard." "Hehehehehe... hehe... W-Well... I-It's nicer to meet you!")
I got to see them after the show, too. There were a lot of people waiting back behind the venue though. It was Emily, Josh, and Jimmy and they stopped to talk with all of us for a few minutes. I wanted to get my picture with the whole band, but they wouldn't let me because I got one with Emily earlier and they were kinda in a rush. I'm still laughing about it, though. And Emily remembered my name!
(Me: "Could I get a picture with all of you guys?
Emily: "Haha, you already got one, Gerard!"
Josh: "Yeah, Gerard, you already got one!")
At which point I started blushing a lot and didn't really mind that I didn't get a picture.
We stuck around a little bit longer and saw Joules come out to the bus, and he stopped and I got to talk with him for a while about the tour and where they were going next and how they were really excited to be playing in Europe and Australia, and how they really just wanted to sleep for the next two days.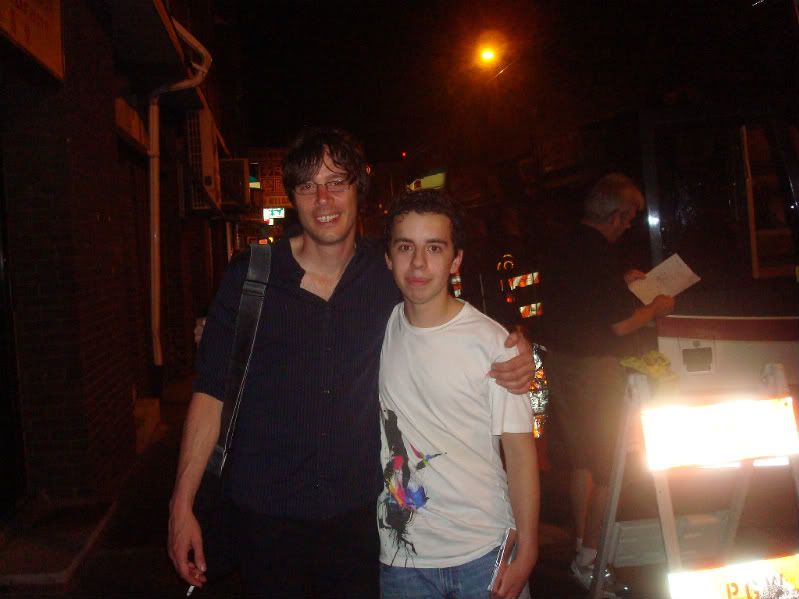 So yeah, couldn't have picked a better show to see for my first Metric concert
I'll post up the videos that I got from front row... Eventually. I'm too busy spamming my trip everywhere else